Trying to get back on track this week with running. Don't want to over do it on my knee, but need to get back in the training game for May marathon. Waking up early is tough- my body isn't convinced it's actually 5 am.... it's still thinking 4 am and no way it's going to get out of bed. Need to find my motivation....perhaps it's waiting for me inside a carton of cookie dough ice cream.
Monday - yardwork all day. Painted the deck, painted in the house, finished the flower beds. Working all day, but not on running.
Tuesday - early morning appointment at the tax center. Afternoon/evening went for a walk in the beautiful evening weather, then worked on picking up pine cones in the front yard. Got a wheelbarrow full.
Wednesday - tried to get up early. LOL. Had time for 3 miles before work. After .10, knee was bothering me. So I stopped, stretched it out, and had a great run after that. I guess it just needs a good warm up first. Shorts & T-shirt weather at 630 am. Awesome.
Thursday - got up later than Wednesday :-( ... Had time for 2.34 before work. Back to long pants & a coat for running. But spring is coming! Lots of my daffodils were KO'd in the ice storm early last week. A few survived- they make me smile!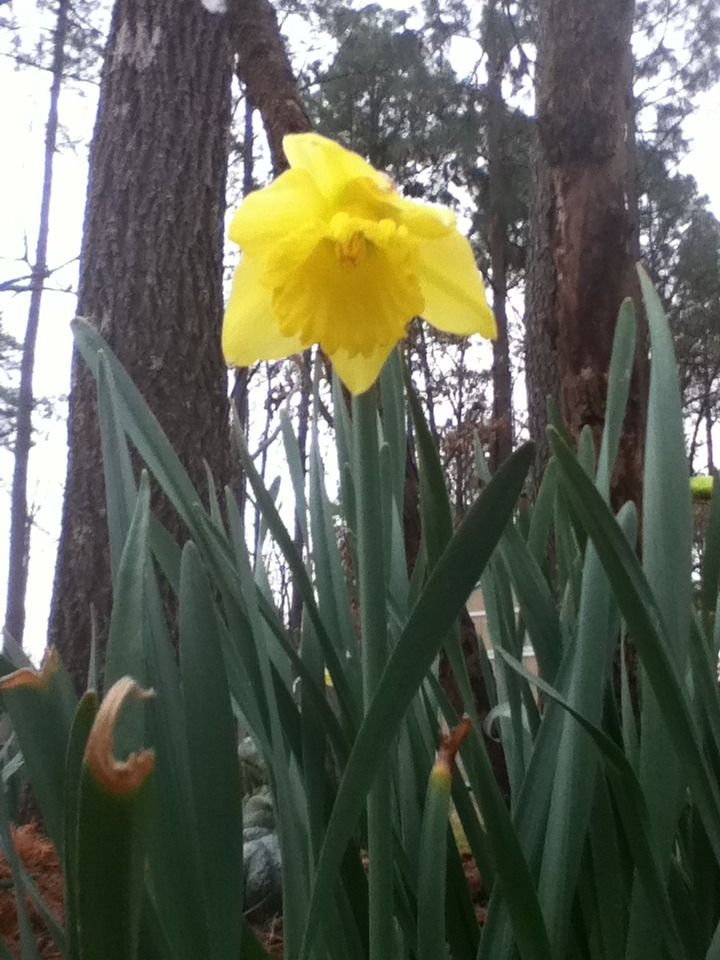 Friday - can't remember what I did.
Saturday - make-up school day, but beautiful outside. After school, Wyatt and I went for a beautiful run. 7 miles of awesome. Had a puppy follow us for 6 of the 7 miles. The owner was looking for it when we went back by the house on our way to the cars. You know what, don't let your puppy run loose (without a collar). He was a beautiful dog, but starved. Either from lack of food or worms. Sad puppy.